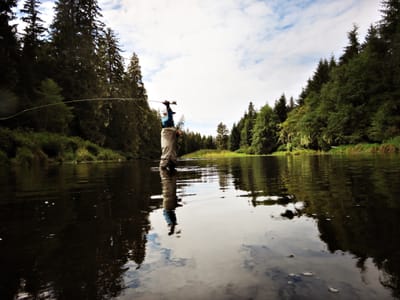 When you
join TU
, you are joining a national organization of 152,000 individuals in 450 local chapters. Every new TU member is put on the mailing list of, and becomes a member of, the chapter with the closest zip code to his or her home address. KVCTU has about 550 members. Our chapter's mission statement is
To conserve, protect and restore North America's cold water fisheries and their watersheds, and to promote angling in a sportsmanlike manner.
Although trout and their environs are special to us and are at the heart of our organization, many of our members enjoy the pursuit of other species as well. Also, most of us are fly fishers, but TU takes no position on fishing methods, and all conservation minded fisher persons are welcome. Similarly, many of us practice catch-and-release, but that is a personal preference and that also is not a TU mandate. Some members are able to become actively involved in the club's projects, while others primarily enjoy the camaraderie of kindred spirits at our meetings and outings.
Please browse through the website to learn more about our history, what we do, and how you can become involved!